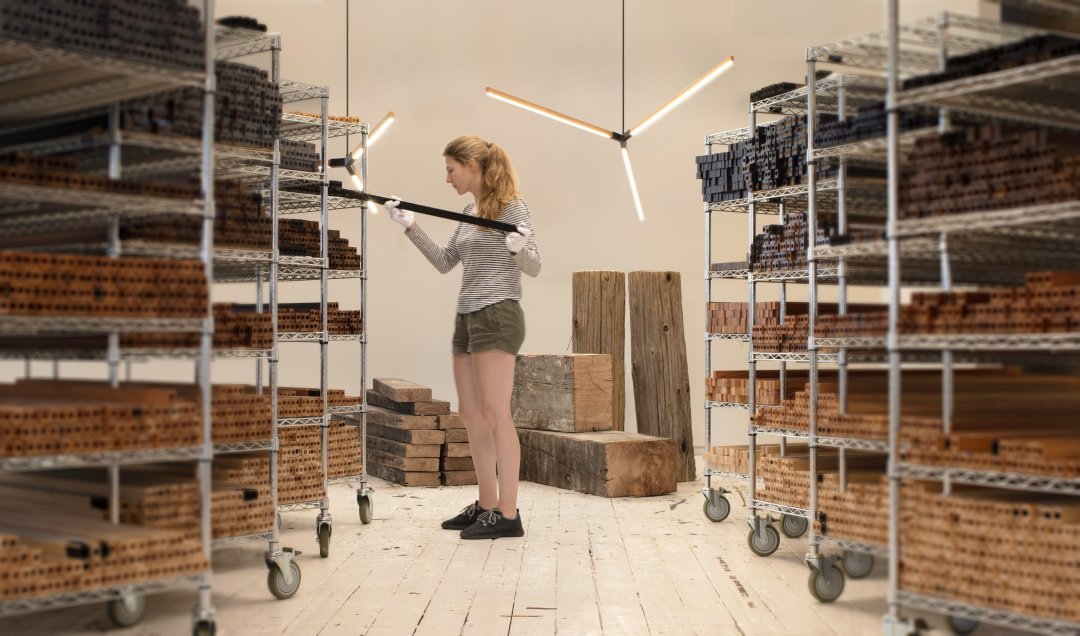 Even down to the name, everything Stickbulb does feels intentional—stripping down the superfluous to find meaning in the purest form. A stick. A bulb. Those two things on their own don't sound very impressive. But after one look at the Sky Bang Chandelier, a Sputnik-esque burst of handsome wood beams inset with linear LED lighting, it all makes perfect sense.
The NYC-based outfit has stayed true to their mission—to build light from wood in an eco-conscious way—since their 2012 inception and have found inventive and resourceful ways to do that. Even going so far as re-purposing the resilient redwood slats from decommissioned New York water towers.
Recently, we caught up with the studio to talk about the intuitively modular aspects of their fixtures, the new releases on the way and a teaser for an "Act II" that has us sitting on the edge of our seats for 2020.

Since the founding of Stickbulb you've been at the forefront of new lighting technology and one of the original brands to introduce the sleek, minimal look of LED fixtures in long linear applications (and others have since have followed your lead). What do you think is so impactful about the design and how is Stickbulb continuing to evolve?
The Stickbulb collection pairs the warmth and organic beauty of wood with the thin form factor afforded by LED technology. The result is a modular system of sleek, wooden, beams inlaid with LED lights that are designed to interchangeably fit within various steel hardware connectors without tools. Since our founding 7 years ago, we haven't deviated from this system. Our evolution has come from being hyper-focused on finding incredible sources for the wood material we use and on pushing the boundaries of what our system of sticks and connectors can achieve formally. We still surprise ourselves by discovering new forms.
What is the mission of Stickbulb?
Our mission is to create light from wood. We are ethical and responsible people, and that makes us ethical and responsible designers. It is less a philosophy and more an act of common sense for us to prioritize the health and wellness of our team, our community, and our world. Whereas we have relied on our intuition to drive our sustainable mission in the past, we are now taking a data-driven approach to managing our carbon footprint. We are in the process of analyzing the energy and resource consumption of our entire operation so that we can quantifiably reduce our negative, and increase our positive impacts.

This concept must really lend itself nicely to custom work. What are some projects that have been most exciting to you?
The Stickbulb system is highly customizable. Some customization options are in the finish; a custom color stain on the stick or special metal finish on the connector. Clients also commonly customize the lengths of sticks in order for a fixture to fit perfectly over a table.
Using the modular system of Stickbulb you can also create highly custom installations. We worked with architect, Rene Gonzales in a beautiful restaurant called Plant in Miami's design district to create a room-filling custom installation using our Sky Bang connector.

Any new releases you'd like to tell us about?
Very soon we will be officially releasing our new sconce design, "RAY Sconce." Ray is a back to the basics story for Stickbulb. Over the years we have come out with complex designs using more and more sticks in one product using dynamic metal connectors. Ray Sconce is simple, clean, and quiet. The design is so minimal that it draws your attention closer to the subtle details of the wood grain and the machine precision of the sconce construction.
The collection is incredibly versatile, coming in lengths ranging from 18 inches through to 5 feet, as well as vertical and horizontal orientations. The light can face the wall, creating a halo effect around the sconce, or graze the wall, creating a gentle wash of light in an up, down, left, or right direction. We are really excited to come out with our most minimal product to date, Ray Sconce.

And what can we look forward to from Stickbulb lighting in the coming year or so?
We are planning for an exciting Act II. Something unexpected. But it is too soon to share. Our studio in NYC is one 10,000 sq ft space separated by drapes. One half is a showroom. The other half is a design lab and fabrication space. If you visit you might get a peek of what we are tinkering with through the curtains.
Najib Benouar
Najib chooses to see the good in every design—from Rococo, to Bauhaus, to, yes, even the Memphis Group—but he always keeps coming back to those sweet, sweet, clean lines and studied minimalism of modern design. As Content Marketing Manager, he's only content when creating content.